Make Your Gift Go Even Further!
All charitable donations in New Zealand are tax-deductible, and you are entitled to a rebate on every donation you make to Upside. You can continue supporting young people and mentoring relationships, by donating your tax rebate to Upside - it's a great way to make your existing gift/s go even further!
We've partnered with TaxGift to make this as easy as possible for you!
TaxGift lets you donate your tax refund from any donations (in the last four years) to Upside in just one easy step.
Make a 'bonus' donation to Upside without a single cent coming from your bank account... and it only takes 60 seconds to set up online.

If you are an individual New Zealand tax resident, who has received taxable income in the current financial year, then you are entitled to a rebate of up to 33% on every donation you have made to Upside.
Think about that for a second, meaning for every $100 donated to Upside, you can gift another $33 via TaxGift.
What's more, this $33 is considered a further gift of money meaning that $11 is claimable the following year and so on: after three years, your $100 donation could be worth up to $148!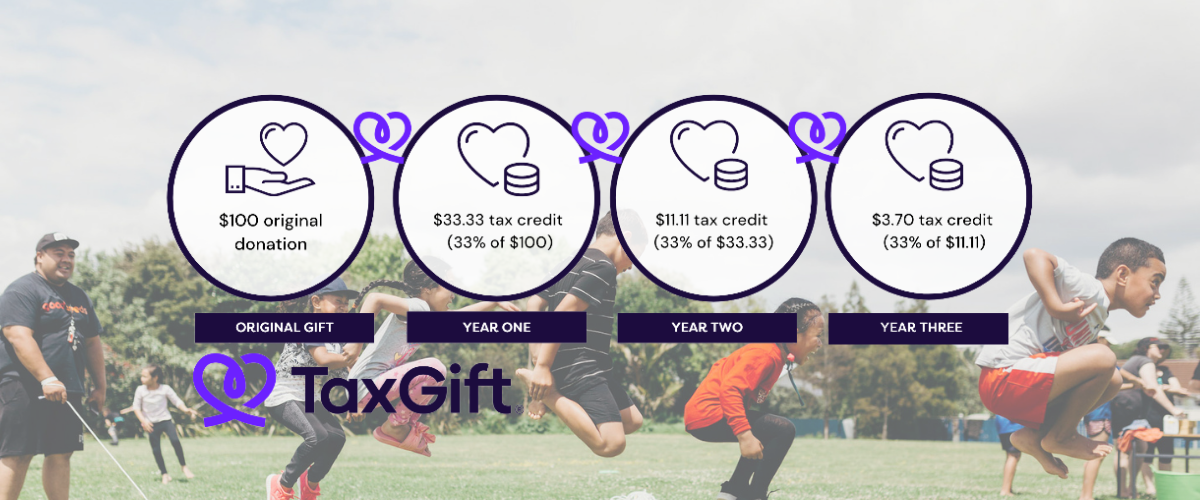 *Please note that once you have signed up, you will not be able to claim this tax credit for yourself.
*We pay a small administration fee to TaxGift for the use of the service.
*You can opt-out of TaxGift at any time by emailing admin@taxgift.co.nz