There are lots of ways you can help young people by getting involved.
Upside Youth Mentoring is a non-government community organisation, which relies solely on the generosity of the community it serves - thanks to people like you, for choosing to support mentoring where it's most needed.

Become a Monthly Giver
Become part of a team to support mentoring relationships throughout the year; by choosing to make a monthly donation for young people. Your gift will see a young person supported from the referral process to finding their match, and the 12-month journey they will travel together each week, plus five fun events per year (including camp) and a 12-month graduation celebration.
Your commitment with other Monthly Giving peers means the world of difference to young people and their whānau.
For more information, contact Rachel on 021 675 644 to chat or via email today.

Give Once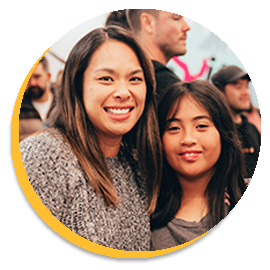 While our service is free, the cost of supporting mentoring relationships for young people is not.
Donations – large or small – will help to continue to support young people to feel a little brighter and a little more loved than they did yesterday. Please give now and support Upside's mission to support change in Aotearoa New Zealand's young people with adverse childhood experiences.
Did you know, ImpactLab's research finding revealed for every dollar raised, there is a Social Return on Investment (SROI) of $4.70 - which we think is pretty neat for New Zealand and young people!

Fundraise for Upside
If you would rather give your time, effort, and ideas, we would appreciate any fundraising efforts to help support mentoring relationships for young people.
We can work with you to develop your fundraising event or initiative. Whether you've got an idea ready to run with, or are not sure where to start - we'd love to chat with you, and see how we can best support all your efforts!
Whether you're going the distance on foot, hosting a bake sale with friends and colleagues, or giving up sweet something for a month (or week) give us a call on 021 675 644 or email.

Leaving a Lasting Legacy
Leaving a gift in your will to Upside Youth Mentoring Aotearoa means you can make a lasting difference to the lives of young people.
By making a gift in your will ensures your legacy can live on, by choosing what is important to you to continue making a difference. It can include money, shares, real estate, or anything else that they would like to pass on when they pass away.
Dedicating a bequest to Upside will ensure young people continue to make an impactful difference in their life. To find out more, please email donations@upside.org.nz.

Become a Business Supporter
Your business and employees can make a significant contribution to help young people through mentoring relationships.
We believe that if businesses and communities work together, we can achieve great things for those in need. Our team can work with yours to develop a meaningful relationship that aligns with both your community/corporate social responsibility (CSR) goals and Upside's charitable mission.
For more information, please email donations@upside.org.nz.

Upside Youth Mentoring Aotearoa is a member of The Fundraising Institute of New Zealand (FINZ) and therefore abide by ethical fundraising practices.
The Fundraising Institute of New Zealand (FINZ) is the professional body that represents fundraising throughout Aotearoa.